Well its September 6th 2017 and my 2 beautiful girls have gone back to school today - so I have also headed back into the studio full-time with my new plan and my new mission.
As my earlier blog post talked about, this Summer has been a time for reflection for me, and a period of upping my business skills and developing a new plan to finally start storming ahead in a clear direction - rather tham ambling along like I have been doing so far. I have become crystal clear about what drives my work, and has always driven my work - be it a painting of a giant scone or some of my older keepsake craft work. My underlying influence has always been joy - more specifically the appreciation of joy in the every day.
So now, instead of this just being a quiet background message, this is going to become the mission I shout loudly about and which drives my work forward. I am passionate about being grateful for the ordinary joy we can constantly find if we are wise enough to spot it and my work is going to celebrate it.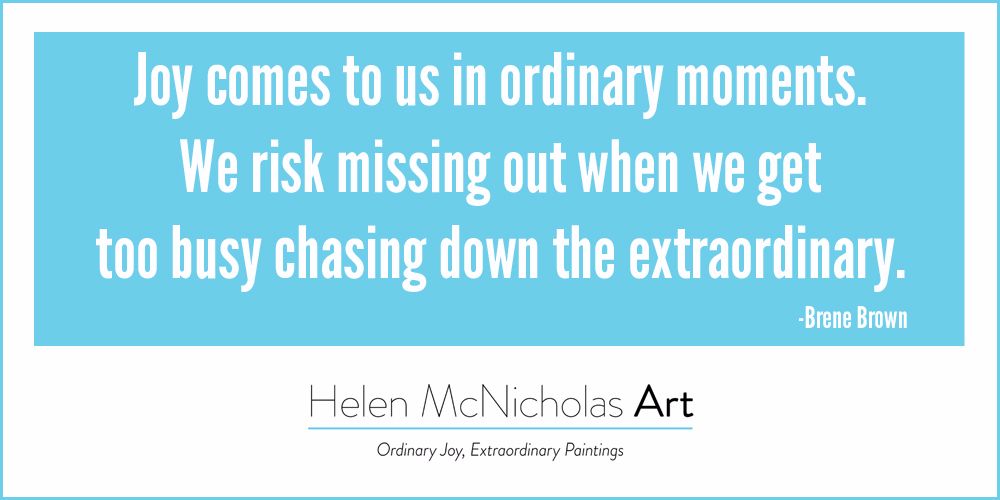 From now on, this one driving force, this one mission, will influence my new work and will be at the heart of everything I paint, write about or share on my social media. It is how I live my life and I sincerely believe we can all lead a richer life if we allow ourselves to find ordinary joy in our everyday lives. Whether it is being still long enough to really enjoy a morning brew and savour the peace of the moment, or noticing the dappled light through the trees, or even noticing that the crack in the bus stop resembles a penguin - we are surrounded by small moments of ordinary joy that if we stop long enough to notice and enjoy them can enrich our lives in much greater depth than their simplicity would have us believe.
There are also moments of joy we can bring about ourselves, and this approach has inspired my latest painting, which is currently in the rough blocked in stage and which carries the working title 'And today, I will be wearing purple shoes'.
And why not! ;)