And the award for longest painting title...
Posted on
Anyone who knows me well will tell you that I'm not the bold, risk-taking type. I like security, rules and putting my pyjamas on at teatime. But, the older I've got and the more of life's 'bad times' I have seen, I have come to firmly believe that we have to take a risk in life every now and then – and sometimes an almighty huge one.
The treadmill of adulthood can be relentless – the responsibility of bills to pay, food that needs buying and cooking (sometimes for little people that need feeding too!) and a seemingly never-ending list of grown-up chores that need doing can make us feel that we have our choices taken away from us. The need to meet all these things means we stay in a secure job, (one with a regular pay packet that pays the mortgage!), or stay with habits and routines which are familiar and safe to us.
Often, fear keeps us in the safe zone – but sometimes we have a niggle for something more. Sometimes we face something that means taking a risk, taking a chance, taking a leap. It might be applying for a promotion, starting a new relationship, or giving up that secure job to follow a calling – an ambition for something more. Whatever it is, sometimes we need to take a deep breathe and take the risk.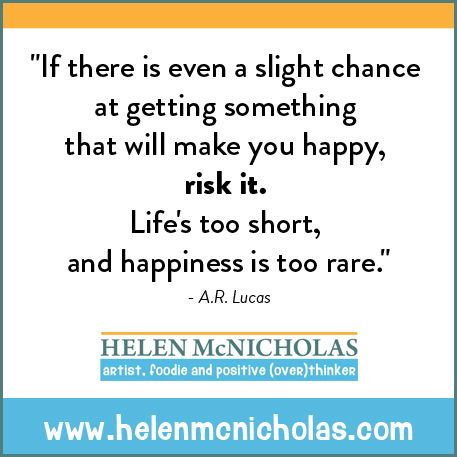 'He that is afraid to throw the dice will never throw a six' is a painting all about this (I told you it had a long title..!) You can never reap the rewards of taking a bold step, if you never take the step in the first place. You can never throw a six if the dice never leaves your hand.
And this is what I am doing now. I took the initial leap away from a well-paid job a few years ago – but it has taken me until now to take the final leap towards following the path I have always dreamt of taking. I have finally thrown the dice – and have yet to see where it will land.
I am still in the stomach churning land of watching it spin – wondering if I can pay my mortgage, wondering if people will laugh at what I am saying, wondering if I've made a big mistake. Or indeed, if this is the start of the greatest success of my life – a big fat six!
One thing is for sure, however it lands I will never regret throwing the dice, and I know I would never have been happy not giving it a go.
And anyway, I'm holding out for that six...! :)