Sorry, not sorry! Let's stop over apologising...
Posted on
As I try to grow braver and bolder in my own skin, one thing I am becoming much more aware of is the language I use and the effect it has on my behaviour – and one very strong example of this is the amount of times I say 'I'm sorry'. And so often for things that I really shouldn't be apologising for.
Now, don't get me wrong – I am a firm believer that an apology when one is needed is both a brave and correct thing to do. But, I have a feeling that plenty of you lot are a bit like me and apologise far too often – like if someone punched me in the face I would apologise to them for hurting their knuckles (ok, that's a bit extreme but you get my point!)
One example that made me think about this, was planning a Facebook post for my Art page after not posting for a couple of weeks while the girls have been off school. I was going to start it (as I have many times before) with something along the lines of 'Hi, I'm really sorry I haven't posted for a while...' but then I thought, is that really something I should apologise for? Yeah, I should probably post more often, but should I be sorry that I have spent some wonderful time with my husband and children over the last couple of weeks? Should I feel remorseful about the walking, the baking, the gardening, the days out, the late nights and all the fun with family and friends we've been having?
No, I really shouldn't.
The more aware I am becoming of the language I use, the more I realise how often 'sorry' creeps into my every day life. How many of these are familiar to you?
When eating in a restaurant: 'I'm really sorry but it seems you have forgotten the sauce...'
Catching the attention of a shop assistant: 'sorry to bother you, but could you show me...'
Turning up a few minutes late meeting a friend due to something genuine or beyond your control such as the dog escaping or the train being delayed: 'I am so sorry I'm late...'
Someone bumping into you quite rudely in a shop: 'oh, sorry...' (yes, us apologising to them!)
All seemingly innocuous, but if like me you are a serial apologiser, these are evidence of us apologising for our own wants and needs (and often, rights), and in many ways apologising for our own existence and the inconvenience it may cause to others!
So, join me in no longer being sorry that we are here – and no longer apologising for not getting the sauce we paid for or for the failings of the national rail network. By just paying attention to the words we use we can grow in confidence and become more assertive.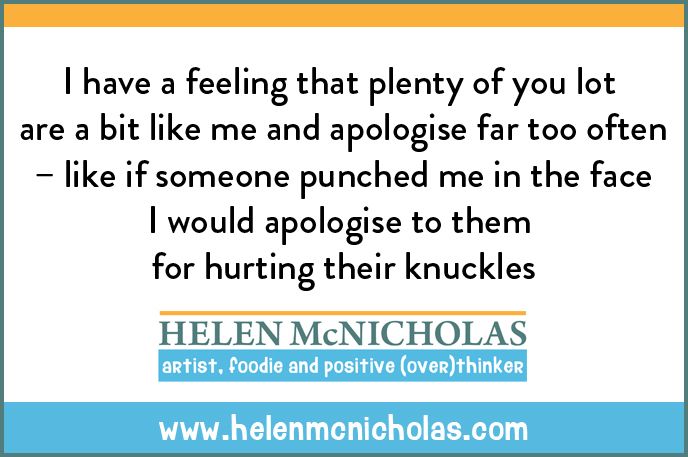 5 ways to stop over-apologising:
1) Become more aware of your own language. Pay close attention for a day or two and see if you do apologise as a matter of habit. Only if you are aware of something can you change it.
2) Pause. Give yourself just a brief moment of time to ask the question, 'have I done anything here that I should be sorry for?'. If not, don't apologise. Is it your fault the train was delayed? If not, don't take the blame. Was the fact the waiter forgot to bring the sauce for the steak your fault? If not, don't say you're sorry.
3) Replace the word sorry with a more confident substitute! Depending on the circumstances, 'excuse me' or even a friendly 'hello' can be enough to gain someone's attention without apologising for disturbing them!
4) Say thank you, not sorry. This change of language can be very powerful. Late meeting your friend because of that train again? Don't apologise for being late, thank them for being so patient and waiting for you. Can't make a night out with friends because you're already going to a lovely family celebration? Don't be sorry for going to a special family party that you're really looking forward to – thank them for the invite and explain with no apology your prior commitment but say how you will look forward to the next chance you have for a night out with them. No guilt, no apologies – just circumstances accepted in a much more confident and positive way.
5) Exist! One of the main reasons we over apologise is because we hate to inconvenience anyone or cause any discomfort or conflict. But life, by it's very nature, creates chaos. There will always be things that happen beyond our control (or even sometimes within our control) that mean we will have to make our existence felt – and we need to embrace this and not shy away from it. Our existence is our one and only life, and we need to stop apologising for it.
And crikey, I have really gone on in this blog post, but I'm not sorry... ;)
Helen x