Don't Ignore Your Niggles!
Posted on
The core theme in all my current work comes back to one strong message – be who you are, love who you are.
Working towards this one main aim covers all the topics I include in my painting and talk about on this blog and over in the Happy Mind Army facebook group – self confidence (and self-doubt!), overthinking, stepping out of our comfort zone, developing positive mental health, being kind to ourselves – all the things that can help, or hinder, us building a marvellous mindset and staying mentally healthy.
And I think one crucial factor in us 'being who we are', is listening to our whispers, our niggles – those feelings deep down which tell us what we want to do and strive for in this one life we get. On paper, being who you are seems like the simplest thing in the world. Surely, just by waking up and breathing you are being you – but in reality, I think many of us get so trapped in the rat race of jobs, careers, paying the bills, even sometimes keeping up appearances, that often the 'real you' can get lost along the way.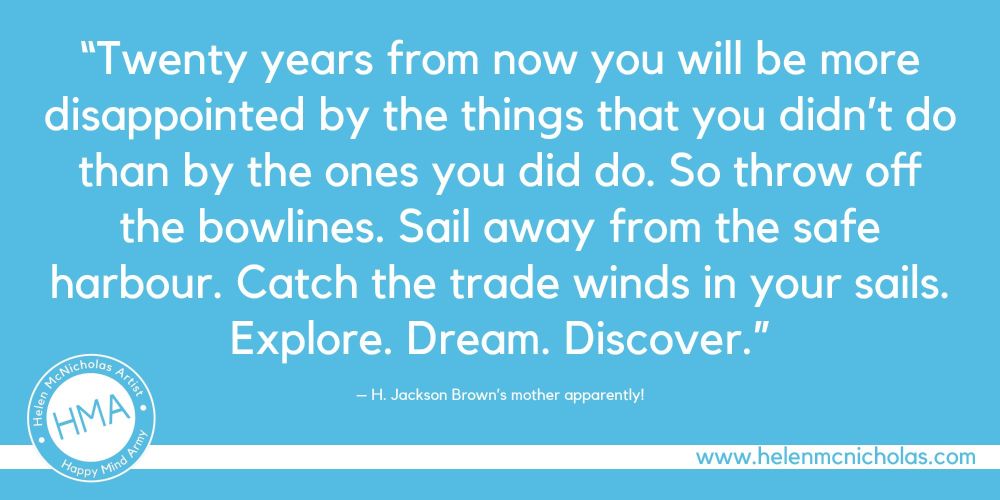 I truly believe that ignoring these niggles can lead to a life of frustration – perhaps on a scale big enough to have an impact on mental health. And I believe that we can become so used to ignoring our own 'callings', burying them deep, that we even become frustrated with our own sense of frustration! We may feel unfulfilled or unhappy and we're not quite sure why. And unless we start listening and tuning into these niggles again, we can't do anything about them.
So, my challenge to you is to start listening out for your niggles. You may already have a strong calling towards something, but feel it is so far-fetched that you try and hush it up – maybe it would call for a change of career, returning to education, a shake-up of relationships or even just a change of routine that would cause a few problems. Maybe you have been following the same old routine for so long that you can't even remember the last time you stopped to think about what you are here for, what would make you feel alive.
But it is never too late to do it. Over in the Facebook group and in my social media this month I have been talking a lot about self-care and a big part of this is giving yourself permission to be who you are and to pursue things which fire you up. We are only here once (and who knows for how long) so we all deserve to live the life we are here to live – not someone else's version of life, but ours, no matter how different it is to everybody else's.
Ask yourself, if you didn't have to worry about money, time, childcare or anybody else's opinion what would you do? Don't try and edit it or tone it down, answer honestly (you don't have to tell anyone else!) – and also allow yourself some time to find the answer. As I said, we can become so used to burying our niggles that we become numb to our own passions and interests. But when you do start to find some answers, free of limits and anyone else's opinion, somewhere within there might be a spark of something, a spark that can be the beginning of you coming back to life, or even just feeling back in control of life a bit again.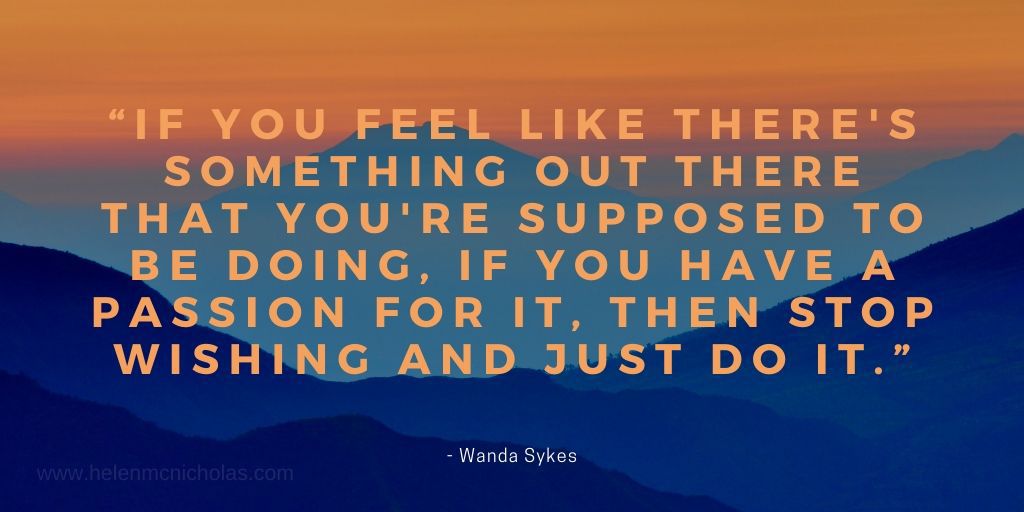 It might possibly be something that makes you reflect on huge areas of your life such as family, career, where you live, where you work - life-changing decisions can be made even when you think you are firmly embedded in a certain way of life. If who we are deep down, isn't in tune with the life we are outwardly leading then I really do believe this can be the source of deep unhappiness.
But it doesn't have to be huge, life-changing decisions your niggles lead to. You might enjoy your job, be in a happy relationship and you may just uncover some small things, but small things that can have a huge impact on your happiness and sense of fulfilment. Maybe you will remember how much you loved performing when you were younger and it leads you to look at local Amateur Dramatics groups, maybe you acknowledge the frustration that you and your partner used to spend lots of time cooking together and now with work and family life you never do – so you vow to introduce a monthly evening where you bring masterchef back into the household! It could be that you remember how much you love reading, or that you've always wanted to learn to paint, to ride a motorbike or run a marathon! Whatever those niggles are, we need to stop hushing them up because life gets in the way and we need to start listening to them because they are in fact what makes us come alive.
We owe it to ourselves, and our short time on this planet, to live our fullest life. To do the things which make us come alive and in turn make us more the person we were put here to be. Doing things which light us up is not selfish – ignoring them is to miss out on being who we are and loving who we are – and you know how important I think that is!
So, turn up the volume on your niggles, get in tune with them and start having more than just any life, start living YOUR life!