Start your #LittleNoteBigDifference habit today...
Posted on
Not long after I met my husband Paul (nearly 18 years ago!) we had a conversation where we agreed never to take anything for granted – more specifically, not taking for granted that we each knew how the other one felt without us saying anything.
We often think that someone knows that we love them, that we're proud of them, that we like having them around – we take it for granted that they know, so we don't tell them. But what might seem obvious to us, might not be obvious to them.
If a person is feeling down, maybe lacking in self-esteem or prone to overthinking, it is easy for their mind to interpret things differently, to convince themselves that no-one loves them or that they're letting everyone down – assuming that they know how you feel is not enough – you have to tell them. And you can never tell them enough.
So, if you love someone – tell them.
If you value someone's friendship – tell them.
If you're proud of someone – tell them.
If someone makes you happy – tell them.
At the moment, it seems that society often makes it easier to complain, criticise and belittle. Let's match this trend of doing ourselves and others down with a small but steady move towards building each other up. And it can start with a little note.
I'm a fan of the little note – a hello, a thank you or an I Love You stuck in a lunchbox or on a bedside table can lift the spirits more than you realise. And it doesn't just have to be about the big stuff. Leave a little note on a colleague's desk telling them how grateful you are for the brews they make or that you've noticed they've kept the office spider plant alive and you appreciate it! A little word of support and praise from a friend or loved one can boost us mentally and emotionally in a massive way.
So I would love it if we all embraced the idea of #LittleNoteBigDifference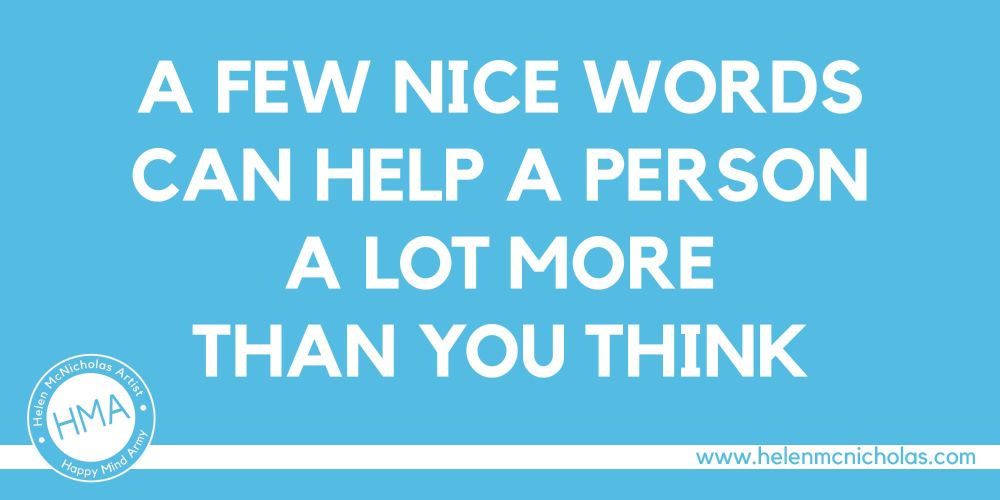 Write a few words, leave a little note to praise someone, tell them how special they are, tell them they wear cool shoes or make the best cakes. A few words, a few moments of your time for something that will spread such positivity and really boost someone's self-esteem and confidence. And the more we do it, the more of us that do it, the bigger this wave of kindness can grow. I know it can sometimes feel a bit daunting doing something like this (and if you're anything like me it can be easy to overthink yourself out of it!) but the joy it will bring to the recipient will far outweigh any fear we feel about doing it so take a deep breath and leave that note!
To make it even easier for you, I have designed a series of #LittleNotes that are available now, in the freebies section of the Happy Mind Army Hub. Download them, print them out and simply share the love (print them out at work and it won't even cost you any ink! But don't tell your boss I said that!)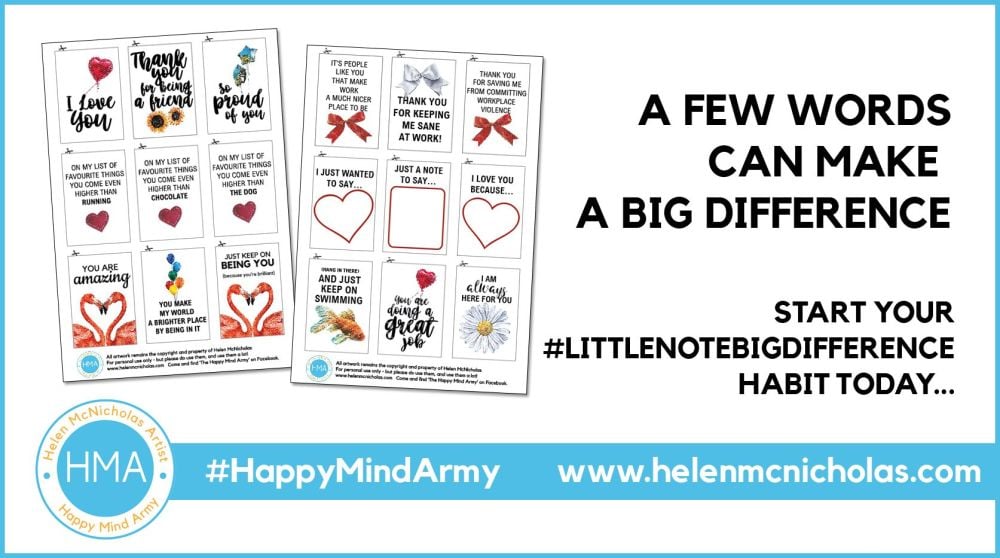 So spread the word, start your own #LittleNoteBigDifference habit and together we can build each other up and encourage the sharing of kindness instead of criticism.
#BeKind